UFTA Meets on the Second and Fourth Mondays of Each Month
***COVID Update: UFTA is resuming events June 2020***
The 2nd Monday is our Monthly Meeting
The 4th Monday is our Film screening
Monday September 14th UFTA Monthly Meeting : We have an interesting and informative meeting planned. The networking/social hour is at 6PM, and the meeting begins at 7PM.
Everyone is welcome!
This month we will discuss current projects and upcoming UFTA short films. We plan on shooting at least two shorts this year, and the meeting will be dedicated to script ideas, and discussion of parts and roles.
The meeting will be held at The Mix Grill restaurant, 4921 Palm Beach Blvd. Fort Myers
Reminder: If you would like to perform a monologue before the club, come prepared, we will be doing monologues every month.
Free to members and first time guests...all others $8 at the door.
UFTA FILM SCREENING: August 24th Event is cancelled
September 28th At the Mix Grill Restaurant
We look forward to seeing you on the 4th Monday of every month.
We will be screening short films with an emphasis on Florida produced films. Movies will begin at 6:45. Please join us earlier to dine.
Free Event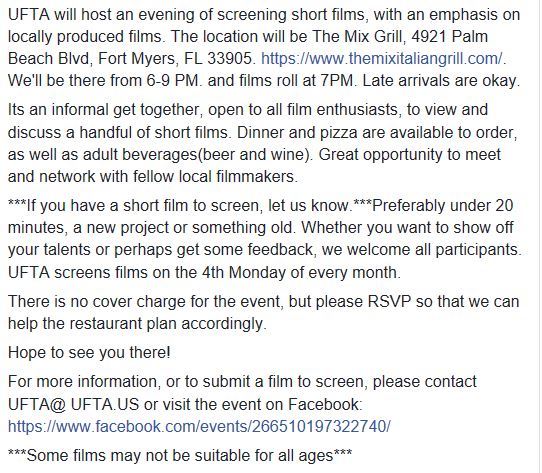 To Submit a Film for the UFTA Screening, just follow the FilmFreeway link: