UFTA Meets on the Second and Fourth Mondays of Each Month
The 2nd Monday is our Monthly Meeting
The 4th Monday is our Film screening
Monday October 14th UFTA Monthly Meeting : We have an interesting and informative meeting planned. The networking/social hour is at 6PM, and the meeting begins at 7PM.
Everyone is welcome!
Held at KJ's Steakhouse, 10950 S. Cleveland Ave (Rt 41) Fort Myers, across from Page Field.
Reminder: If you would like to perform a monologue before the group, come prepared, we will be doing monologues every month.
Free to members and first time guests...all others $8 at the door.
UFTA FILM SCREENING: September 23rd At the Mix Grill Restaurant
We look forward to seeing you on the 4th Monday of every month.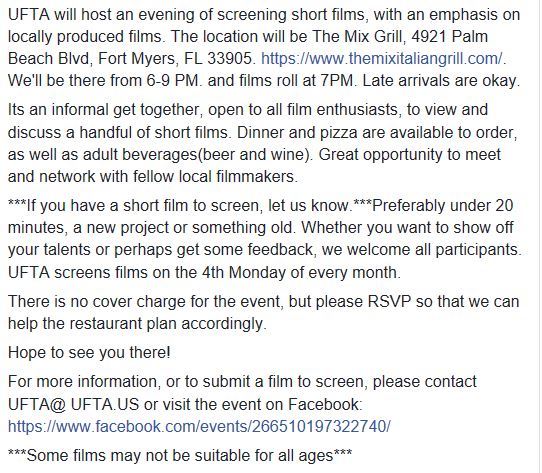 To Submit a Film for the UFTA Screening, just follow the FilmFreeway link: